And that we are, very proud. Erin finished the walk, the entire 60km's in 2 days and anyone who was in the Montreal area felt the Hurricane ruminants of Irene. That didn't stop her and her team though…no way…these are some of the toughest people I've ever seen.
.
I haven't had a chance to update this as we went along the past 2 weeks, but we did help Erin reach her goal of 2000 dollars for her entry in the PharmaPrix Weekend to End Women's Cancer. You guys really came through and we can't thank you enough.
.
To update, Hugh from DeBoer Auto came through and picked up Mats' destroyed mag in which he's going to hang in his lounge, (what a sweet conversation maker!) and Danny from MontrealRacing.com sent over Jeremy in the MR Media car and picked up the oil change. This, plus Randy, Pam and everyone else who contributed knocked her over the top!
.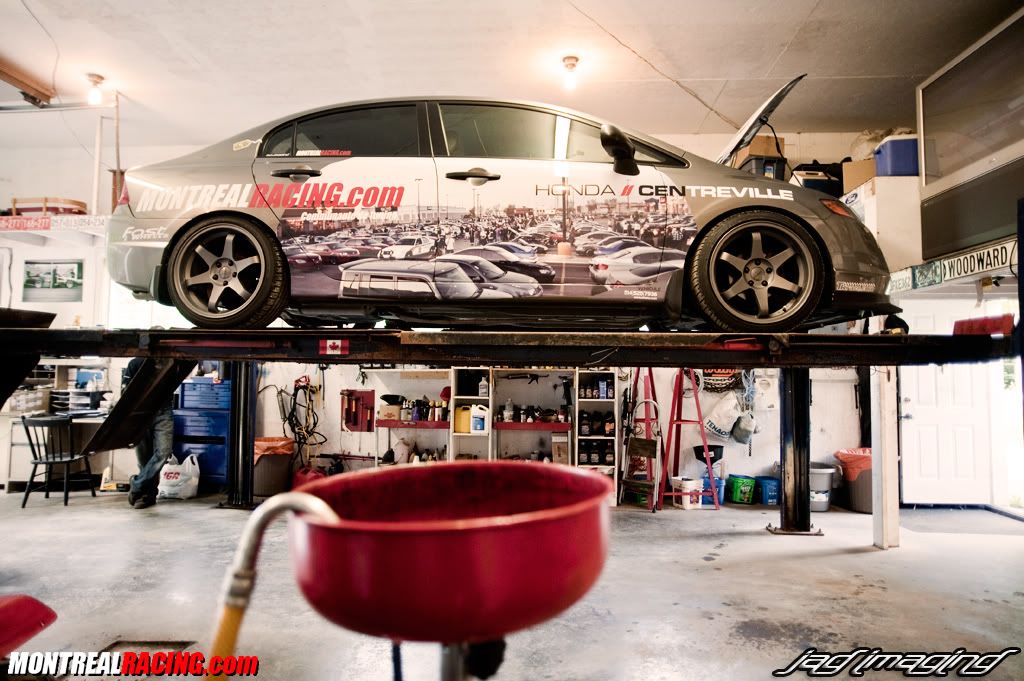 .
I showed up at Queen of Angels Academy in Lachine just before they were to set off on Saturday morning, and really, what energy there was floating around…1800 or people all getting ready for day 1 of the hike.
.


.
The sun was out and Erin was lookin ultra cute in her WoodsRacing.ca shirt…(I think WR looks good in pink)
.


.
And after the opening ceremonies, off they went, headed downtown. I stuck around and watched them all leave parade style, greeted by the local firefighters, fans and family. It was truly something to see. I kept in touch with her throughout the day and all went well. Weather held up and no blistering of the feet was had.
.
Then came day 2….
.


.
.
The morning didn't start so bad..it was a little gray, but not raining yet. We all knew it was coming though. The upper US coast was getting pounded by Irene and it was just a matter of time before she sent her lashes up here. We had RED RED RED weather warnings so we hoped everyone would be safe.
.


.
By late morning, she had come…Irene…whipping rain across the lakeshore and bringing crazy high winds. That didn't stop Erin and her crew though, no way..they kept on through with a wrapped up knee through whatever Mother Nature could dish out.
.

.
It's really amazing, I mean, on day 2, walking 30 or so km's when it would have been just as easy to call it quits…no one would have blamed them with the weather and all. Nope, they kept on pushing and that's something we don't see everyday. It's a great thing that Erin and her crew did, perseverance and will power pushed em through and I applaud em for that.
.


  .
Us here at the Woods Racing camp are proud to say we were involved in this. It's a wonderful thing to help out people when you can. The Montreal Jewish General is in a little better shape after the efforts of all of us, and to those who contributed, sent notes, shared my links and followed the blog, thank you. It really means a lot to us.
.
Just before the weekend started, Erin had this to say:
.
The Weekend is about saving lives. It's about making a difference. It's about perseverance, endurance, strength and hope. This is my second year participating, and I do it to show my support to those whose lives have been touched by cancer. For every fighter, survivor, and for those we have lost too soon. I walk those 60km because I want to do my part, I too want to make a difference. With the help of so many generous donations, I will be able to do just that. I want to sincerely thank Bannon and Woods Racing for the incredible effort you made to help me with my fundraising. I have reached my goal of raising 2000$ and passed it! You have gone above and beyond and it means the world to me. Your support and encouragement have been amazing. I will proudly wear your logo on my back this weekend, knowing that you really do have my back! Thank you.
.
I want to also thank the amazing people who stepped up to the plate with items for auction.  Jonathan Charbonneau-Waldron from Monster Energy Drink, Louis-Philippe Dube and Technika Industries, Mats Baribeau; Gold in the Net / Canada Synthetic Drift Team,  and again Woods Racing / Canada Synthetics… You have made this all possible.
.
And to every person who has so generously donated or bought items for auction, words cannot express my gratitude. This weekend will not be easy, emotionally or physically, but knowing that I have the support of so many will keep me going, kilometer after kilometer. I won't let you down! Thank you all from the bottom of my heart.
.
Erin
.
Xoxoxo
.
"How wonderful it is that nobody need wait a single moment before starting to improve the world." (Anne Frank)
.
It's awesome what you did Erin, and thank you for letting us here at the Gofast shop be involved, we're all really proud of you.
.

Sep 01st by Bannon