Anyone in racing will tell ya, race long enough and you will hit the wall. It's bound to happen sooner or later and when it does, you got to pick up the pieces and get going because the one thing a wall won't do…is put you back together.
.
This is what we're doing right now in preparation for Round 3 in Victoriaville Quebec this coming weekend.
.
Round 2 was trouble from the get go. The week leading up was rushed and scattered between other clients here at the shop and waiting on parts to arrive. As you know this Drift-Zilla is a four door right hand drive 1993 Toyota Mark II imported from Japan, it's not like you can just call up Napa and order some flanges. Most everything we're putting back on the car after breaking it, wear and tear or upgrading is pretty much custom made. Add in aftermarket turbo's, fans, lights…etc and you need a lot of imagination and time. The latter is usually the scarce one.
.
All in all, before I shipped em off to Icar the car was good, I was confident in the performance but both Mats and I had a bad feeling. Something wasn't sitting right with either of us as we watched the weather network…and the dark clouds roll in.
.
Basically, by the time practice came around it hadn't rained enough to stop the race, but rained enough to make it sketchy. This situation is the most dangerous for a driver. Not to mention the fact that drifting is a controlled slide on dry pavement, so you can imagine what that means when it's slippy.
.
The track was wet, and out Mats went. The first couple rounds his spotter and Dad said he was killin it out there. Mats said the car was good but needed to come closer in the line. Pretty much on the next practice out the ice rink he was on got the best of the drift-limo.
.


.
He hit the wall at about 95 with the rear left quarter, slamming the front left into the wall, climbed the K-rail and finally came to a halt after grinding it for a couple seconds. He shook it off and brought it back to the pits where they tried to max out the left side suspension. After the questionable handling characteristics that the car had after another trial lap, it was decided that it would be safer just to pack it up and get it back to the shop sacrificing the points in that round. Hey, better that then ending up in the wall again.
.

.


.


.
So what we had was a bashed in rear quarter, no more rear windshield and a front left suspension pushed in about an inch and a quarter. Since I wasn't there to see it, it took me a little while on the lift to place everything, do the inspection and tally up the damage. I brought Marty up (who is currently pulling the frame on Matt's pro-am car) to have a look since he is the body/frame specialist and he gave me some pointers and spotted some stuff for me.
.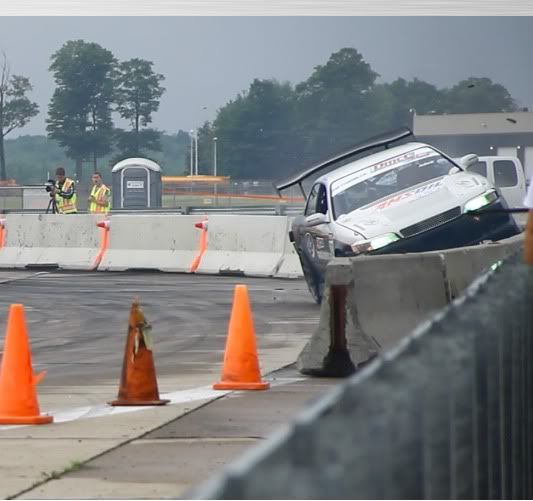 .
Basically what we are dealing with, is trying to get the front left suspension back out by at least an inch to give Mats the control he needs. The ball joints were both destroyed, the spindle arm was bent and lower control arm was bent. We made a plan to make the lower and upper control arms adjustable to push the wheel back to the outside of the fender and called in Simon from Sims customs to help out with the welding and fabrication.
.
It was really great of him to drive from Cornwall that same night, pick up all the busted pieces and have em back the next night all set and ready for testing. At the same time Mats had some custom lower ball joints made up and everything looked alright to go ahead and start fitment.
.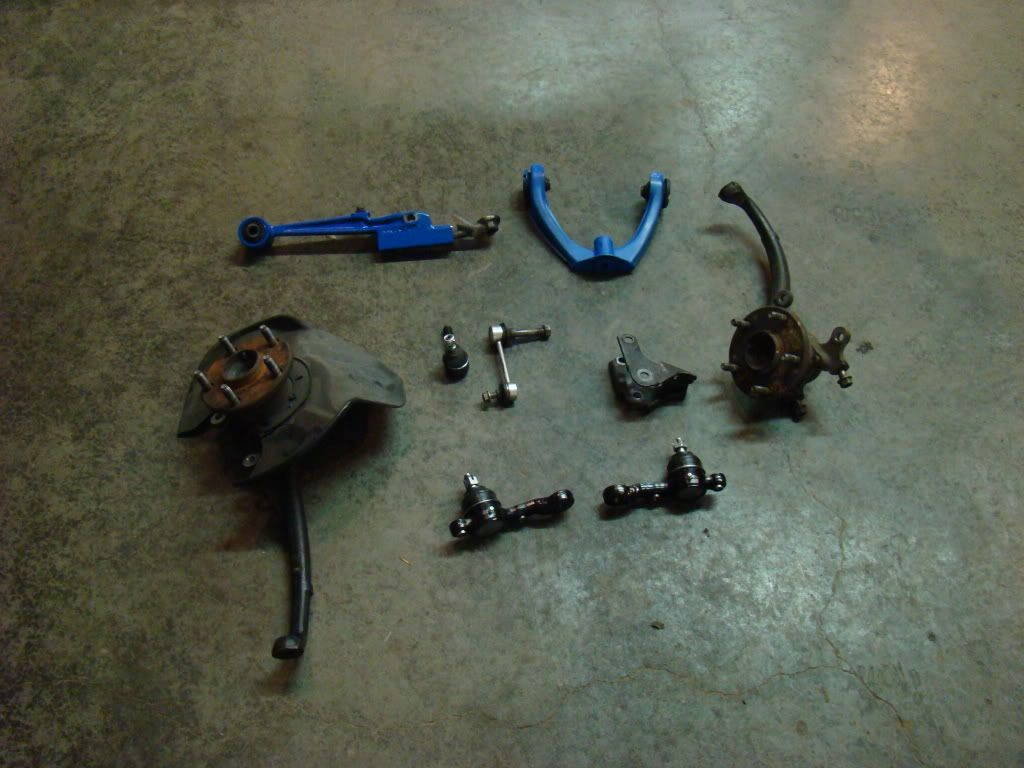 .
This is where it became tricky. To much outer adjustment on the control arm and we max'd out the tie rod creating a toe out condition. Mats likes his toe a certain way but we were way over an inch. After removing adjusting, cutting, welding, banging and praying, I finally got the fitment right and got everything reassembled in time for practice on Sunday.
.
So we packed it up and headed to St. Eustache for Driftnight. On the radio he was telling me that all felt ok so yup, it was pretty much keep going harder and lets see if this stuff breaks. He was having to deal with a lack of response from that front left during transition, but otherwise all looked ok. Then…
.

.
The GoPro…and the wheel said it all. The adjuster on the lower control arm was just not strong enough. I was worried about that before we left and am not really surprised that it broke, but we had to give it a shot, at least to see if the adjustment worked.
.
So now that we know it does, I removed the piece and it's off to the welding shop to be braced together so nothing breaks again and we'll be all set for round 3 in Quebec.
.
I won't be going to that round because this falls on the same weekend as the Toronto Indy race and I'll be down there with them and the Fastco Motorsports team who is racing the CTCC race. We'll be testing some Amsoil gear fluid in those Tiburons so hopefully the Woods Racing camp will do good all around the country.
.
And on the dirt side of things Dave and the team 7x were out there on the track ripping it up also. Unfortunately it was a bitter sweet ending for that crew. After getting a podium and standing 3rd place during the heat, the feature wasn't so good to em as he had a run in with the wall also.
.
It's a little different for those guys, just as much work yes, but it's a tube chassis race car, so it's a matter of cutting and replacing those parts. Dave has had a tough go this year already but I gotta tell ya, he keeps out there and gives it hell every weekend reppin' Woods Racing and Canada Synthetics. I couldn't ask for more in a dirt driver and I thank him and the team for their perseverance.
.
So there we stand, a couple cars in the wall and rebuilding for the next race. We don't give up and we do everything we can to get back out there and give you guys a show. These two drivers I have are truly awesome and full of talent…we ain't gonna let a pesky wall get in our way…
.
Cheers everyone, stay fast.
Jul 05th by Bannon