And another St. Patrick's day (well, for us..week) has gone by. It also marks the one year mark for the start of this blog. It's kinda funny how it goes, on this day last year I was on the dyno with Jason's bad ass Vortech powered Mustang, and a year later, it's in the shop once again for some Woods Racing treatment. Before I go on, I must mention, return customers…heck, where would we be without em. Gotta send a shout out to everyone who has stuck with us these past couple years. It's really you guys'n'gals that make us do what we do, make us want to build faster cars, safer cars, cars that turn better and expand our horizon's. You are truly the backbone of WoodsRacing, and for that, I thank you.
.


.
So what happens around here during St. Patrick's week? Well, for starters, it comes quite close to the start of the race season. Snow is melting, tracks are drying and we're preparing our cars, and other cars to go fast. We also prepped one of our Dune Buggy's for the Hudson St.Patrick's day parade. This is our 2nd year participating (and the 2nd annual for the parade itself) and we love taking part in it. As a race based company, we can get a lot of flak from folks…with street racing fatalities and accidents out there, it's easy to get pegged as the evil side. This kinda gives us a chance to show the community that we promote safe track racing and do our best to educate. Hence the ad we took out in the local paper:
.


.
As last year, we brought down our buggy all dressed up, my Father behind the wheel and 2 of my 3 nieces in the passenger seat. We always get amazing feedback when this machine is in a parade, Canada Day, St. Patrick's day, people seem to swarm to it, they love it, and of course, we love having the chance to take it out.
.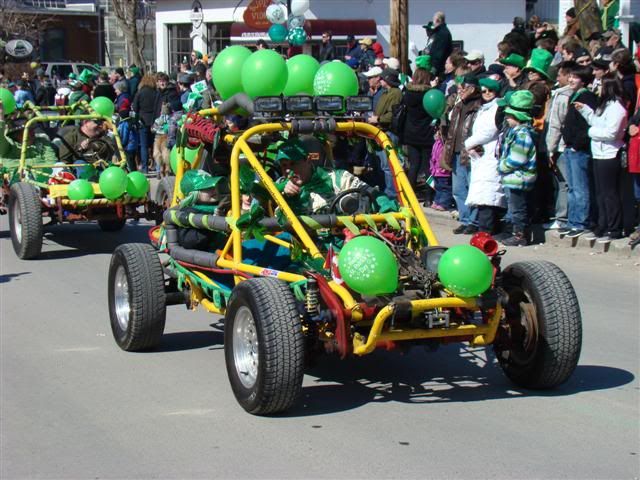 .
We also had a buddy, Luke and his father join us this year..he's got a sand rail like ours so we teamed up with our VW powered machines and showed off a lil bit for the parade.
.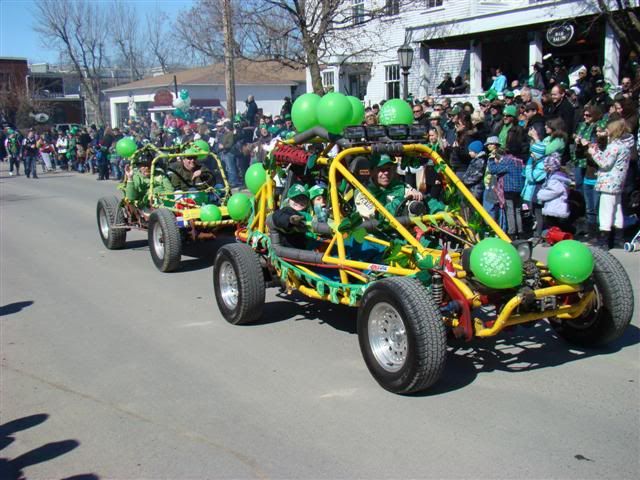 .
It's always good times around here in this holiday week and we thank the town of Hudson, and Cunningham's Pub for organizing it. It's great to have these days in the community, the streets we're lined with good people having a great time..who could ask for anything more?
.
So a big happy St. Patrick's day to you! Next year, come down and see what we're gonna do…we got plans!
Mar 21st by Bannon