There's an undeniable change happening in the auto industry, something that has been coming for over a decade. From a time that brought us poorly engineered econo-box's, look tough crossovers and failed parts…a familiar dawn is breaking. One we haven't seen in a long time. The re-emergence of Detroit, the big 3 from the red bricks and cold steel factories is a present truth.  Sterling Heights, Dearborn, Warren, Pontiac like ghosts are haunting the competition. It's true what they say; America will only be kicked for so long.
.


.
Some of us can remember a strong Detroit, for others it's a distant memory. Poor sales, economic pitfalls, lay offs, plant closings and tough times beat down on Michigan newspaper headlines for years. A city which once rolled Cadillacs down Clark street, Thunderbirds down Wixom Rd and employing thousands of workers now casts shadows of a better time. Crumbled buildings and vast empty parking lots now line North Michigan hinting and whispering of better times in the past.
.
Nearing the end of the 2k decade came bail outs. Millions of Federal dollars were poured into Detroit not only causing controversy but still left GM and Chrysler with barely a leg to stand on. Sales still plummeted and blue collars across the state still got laid off. Ford secured a line of credit, but in the end didn't take a cash bail out giving us a glimmer of hope.
.


.
It was, and I guess still is a scary time for folks around there. What do you do after working 20 or so years with one company, and suddenly you're out on your own with nothing but assembly line work under your belt.
.
Things had to change.
.
So what happened?
.
Well, GM and Chrysler took different approaches than Ford. In 2006 we saw GM sell 51% of GMAC to Cerberus Capital Management. This left GMAC unsupportive of their dealers. Although I'm no expert in Corporate money management, selling off the profitable part of the business may not have been a wise choice. They stood on the door steps of Congress and took a major bail out. They also got ripped on for flying in to town in their private jets which in one trip could employee someone for a year. It was quickly dubbed "Jet-gate" and quickly became an embarrassing scene. Not a great start to the bail out hearings no doubt. In the end though, they got what they wanted, Obama handed over a ton of cash and sent them home with a scolding.
.
Ford, played its cards differently. They brought in Alan Mulally who got to work with the Ford CFO Don Leclair. They mortgaged Ford's assets, including the Blue Oval and generated cash. They secured an "if needed" Credit Line and got down to business. They sold off Jaguar, Land Rover, thinned their share in Mazda and generally tightened the belt.
.
But what these companies did that was more important was possibly the same thing that got them in this mess in the first place. Changed quality.
.


.
The big 3 were beaten and tattered, but as we know, Americans are fighters. They thinned the herd and simply changed. Personally, I find this more with the FoMoCo than the other 2. GM released new vehicles and what not, but truly still had that General Motors feel…yes they were new, but they were still the same. Ford on the other hand, re-vamped, threw their eggs in the basket and started releasing cars with outstanding technology and awesome performance. For anyone who has driven a new F-150, looked at the new Mustang or sat in a new Fusion, you understand. May be the same brand, but these are not the same cars.
.


.
MyFord Touch, Sync and other tech savvy goodies now line the Ford cast. The Fiesta has been very well received and the return of the 5.0 Mustang is pure marketing genius. They concentrated on what the buyer wanted and built what they had to. And that's how a company should be run. If you can't please a customer, you ain't gonna sell jack, Jack.
.
We began to see GM pay off some of the debt, Ford increase their sales on surpass imports and even some plants re-opened. Chrysler and Dodge did a massive clean up of their line and brought out the Journey, Patriot and of course, the awesome Challenger.
.


.
The race scene didn't hinder either as shown above with these 2 monsters. With that Viper and Challenger, Chevy with the new Camaro and Ford with the Mustang…true blue Detroit Iron is once again pounding the pavement and causing little imported turbo boxes to run for cover.
.


.
Jimmie Johnson won his 5th straight Nascar Championship in his Lowe's #48 Chevy, John Calvert wins the AA Eliminator Class in the new Cobra Jet and the SRT8 team from Dodge cleans house and stacks awards with its line up.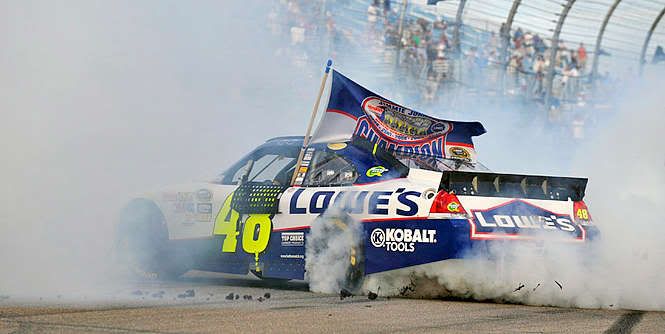 .
Things are lookin' good…awesome even, but what about the streets of Flint, Ann Arbour and Waterford? Downtown Detroit, has it suddenly emerged as a crystal city? The quick answer is no, but if you've been there recently you know what I mean when I say there's a new feel to it.
.
Detroit has a pride, an unwillingness to budge, a certainty that will stand forever. Bricks have fallen, but bricks can and will be re-stacked.
.
Last Sunday, during the Superbowl in Texas, everyone in the stadium, everyone watching on TV and every car lover in North America for 2 minutes, was from Detroit. For 2 minutes we all felt the pride, felt the cold steel and felt the heartbeat. For 2 minutes we became blue collar assembly workers, students and engineers. For 2 minutes, we remembered Detroit. A Detroit that works hard, plays harder and produces some of the most important vehicles to ever grace these Nations highways.
.

.
The narrator was right when he said…"…don't know what we're capable of…". We forgot what Detroit can do, and the Motor City is here to remind us.
.
Some say this commercial doesn't reflect anyone who doesn't live in Detroit. They say it's irrelevant to people who haven't been there and they say it has no meaning to folks that don't live in an "Auto-City". Well, I say they're wrong. This commercial, hits home to every true blood American. Hits home to anyone involved in the Auto Industry and hits home to the average purchaser.
.
Americans and Canadians alike are proud. We want to say that we purchased this quality product here, that it was designed here, built here, by people who went to our schools, learned in our factories and delivered it to our dealers. We have the means, the knowledge and the power to be on top, and despite the fallen bricks of Detroit, Windsor and Oshawa, we stand with our heads high, claim this as ours and won't stand for second place any longer.
.
Detroit is back, and if any of you doubt this, I'll ask you: Have you driven a Ford Lately? My car is Imported From Detroit, and I wouldn't have it any other way.
.

Feb 09th by Bannon