Just a quick lil blogspot to talk to you about something often overlooked and the cause of major headaches and big bills.
.
Yup. Your nuts.
.
Lug nuts that is..or even for you VW/Audi folk…wheelstuds.
.
Most of us out there who own a car, generally know how to change a tire. Well..most of you who read this blog anyhow. For the others, there's always CAA but I could just imagine what it'd be like on the side of the road with a flat in sub zero temps with this problem.
.
Lately I've seen this out of a few companies, mainly Jaguar and Dodge. The selection of lug nuts they have used, are the nut covered in plastic type and really though, what a pain.
.
What happens with these hybrid wannabe nuts is that when you simply put your socket on and twist, the lil plastic cap part breaks and spins around the actual inner lug thus draining your air compressor, wearing your muscles and not correcting whatever it is you need to be doing after removing the wheel. Once this plastic cap breaks there are only so many options.
.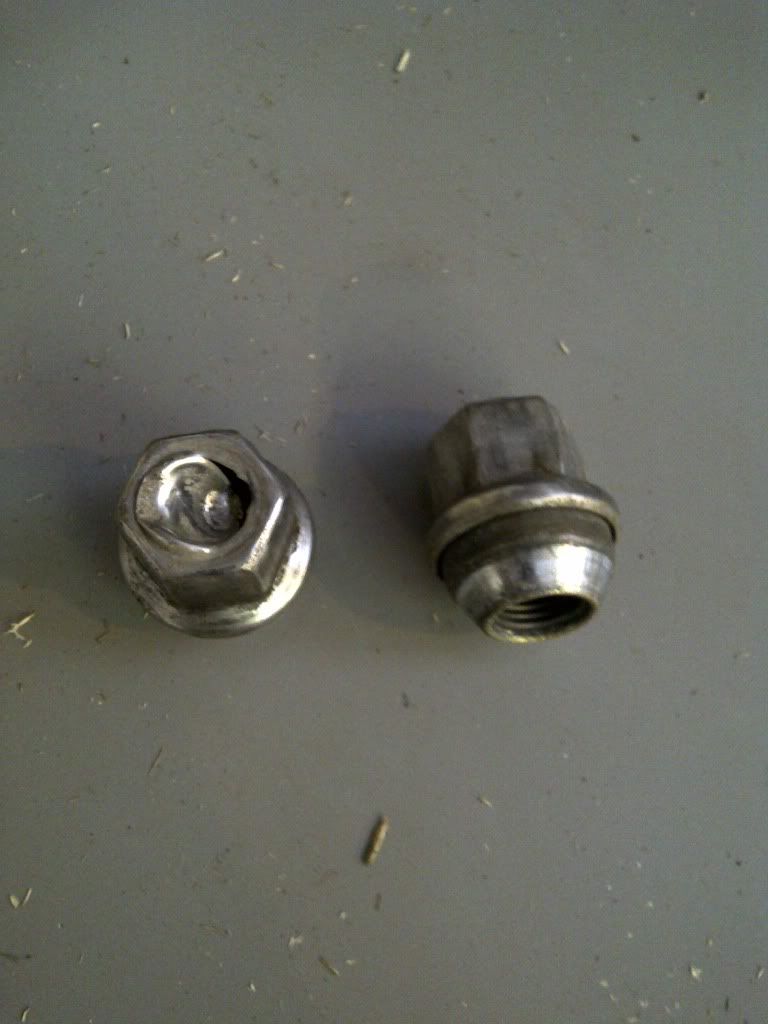 .
1. Try a different socket. Success rate? 1/10. Sometimes, a smaller socket can morph itself onto the nut and get it loose.
.
2. Bolt out. Success rate? 4/10. It can work, but often just grabs the plastic part and spins like a socket.
.
3. Elbow grease and chisel. Success rate? 10/10. Quite the annoyance though. You basically get in there with a little chisel and chip/peel away at the plastic part until the actual metal nut is showing. Grab the right socket and you're off to the races. Or local auto store for new nuts. Remember though, your goal is to just remove the plastic, not chisel into the actual nut.
.
Now I'm sure many of you guys out there have many solutions, ideas and methods on how to remove one of these. I'm not saying your wrong and these are the only ways to get at it, just saying that I have found this to be the easiest way. It's happened to me a few times now and I must say, I've gotten pretty good at removing these pesky little jerks without damaging the mag.
.
And if all else fails, well, it's DRILL BABY DRILL! Right through the nut and into the lug itself until it comes free. Then of course you would have to replace the lug.
.
Now onto our next topic under the "Who's Nuts? Lug Nutz?!" category.
.
TORQUE!
.
Come on guys…easy on the impact when putting your wheels on. The torque specs for a car range from about 75-110 for cars and lighter trucks. Not the old "stand on the breaker bar and jump a few times" technique. Over torquing can do some damage up in there. Especially on aluminum rims. Say you stick it to the man, remove your frustrations and set that air gun to max and tighten away, it sits on the rim for a season or so and guess what. It's basically welded to the rim. If you are unable to get it off afterwards, especially of you're on the side of a highway, you are surely looking at a tow along with a couple hours labour bill at the garage.
.
Not only does it screw up your nut, but it can also pull the lug through the hub, snapping it apart, warp rotors, crease your mag…etc. And please don't put any anti-seize on there. They are "dry lugs" which means to be torqued, with a torque wrench to the spec without any lubricating aid.
.
.
Your local auto parts supplier, and your mechanic will be able to get you the appropriate lug nuts for your vehicle. They come in all shapes and sizes, colours and styles. I have seen this cost people extra money that they didn't have to spend. So just a tip and word of advice, have a look at your nuts. Literally.
.
Safe drivin' everyone!
Jan 25th by Bannon